Simply made
Even Big Heads will love this pillow
Just like our mattress, we keep things simple. Individually wrapped pocket springs move as you do, gently supporting and cradling your head while maintaining spine alignment. Hypoallergenic memory foam and non flatten coils make sure your sleep is hygienic, healthy and heavenly.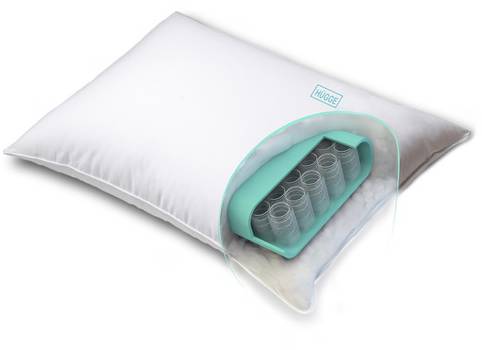 Our pillow cover is viscose coenzyme Q10 (we wouldn't have it any other way!) making it amazing for your skin, luxuriously soft to the touch, whilst providing maximum breathability for circulation and heat exchange.

The Hugge pillow's unique non-flatten system is made up of individual coils which instantly adapt to any sleeping position and weight, contouring to your head and neck to ensure ultimate support and the ideal spine alignment. These comfortable springs also provide a controlled microclimate which allows fresh air to flow through the pillow, further helping to keep your head cool. This unique structure means that our pillow is highly durable, maintaining it's shape far longer than conventional pillows on today's market. Finally, the amazing properties of our unique Q10 cover will leave your skin feeling wonderful.

Our memory foam is hypoallergenic and bacteria free, helping you to have a completely safe, healthy (and superbly comfortable!) place to rest your head every night.
Are you ready for the best night's sleep?
The HÜGGE Mattress
Introducing the HÜGGE Mattress; a sumptuous, sleep-inducing full memory foam mattress designed by experts with over 40 years' experience in the sleep industry. Our wonder mattress hugs to every curve of your body for the optimum amount of support whilst being superbly snuggly – the perfect marriage to ensure you get the best night's sleep of your life, every night. So, what are you waiting for? Give the HÜGGE Mattress a go with our 100-night trial – you won't regret it!
100 Night Sleep Well Trial
We want you to feel completely confident about buying our mattress online before you lie on it. Whilst you can lie on mattresses in stores, you don't really get to test them out. That's why we give you 100 nights to try out your HÜGGE mattress! Sleep on it, jump on it, snuggle on it; whatever you need to do to know if it's right for you. And, if you're not 100% satisfied, we will come and pick it up and give you a refund, no quibbles.
Free UK Delivery and Returns
Live in mainland UK? We will deliver your mattress (or pillows!) to you for free! We always aim to get you sleeping on your HÜGGE within 3 business days as we know how important a good night's rest is for your wellbeing. Deliveries to outlying regions of the UK and to Europe may incur a fee and will take longer. Please contact us at sales@huggesleep.co.uk if you think this may apply to you. If you decide your HÜGGE isn't for you, you can return it within 100 days for free. No need to try and pack it up, we will collect it from your home as it is.
10 Year Guarantee
Our mattresses are fabulous. That's why we can put in place a no-nonsense 10 year guarantee, running from the date of purchase, so you can rest easy knowing your mattress is going to support you for years to come
Simply made
Built for absolute comfort
| Trusted independent review platform
Nicola Cassidy
We bought the Hugge Kingsize mattress after researching many different products. We are delighted with our choice! It is so comfortable! It keeps its shape right up to the edge. The customer service was excellent and nothing was too much trouble. I highly recommend the Hugge mattress!
Justine Sears
Wonderful product. Sleeping much better following my purchase of a Hugge king size mattress. High class item. Wish I had invested in this sooner. Would highly recommend this product.
Christina Christou
So good that I was late for work.... honestly! My first night's sleep on my new mattress was fabulous, and really helps with my shoulder and neck nerve damage. Well worth the money!
Stephen Harrison
The Hugge Mattress is of exceptional quality, definitely increased my sleep quality at home. The customer service is also excellent - Paul from Hugge has been extremely helpful, especially when the wrong size mattress was ordered and arranged a very quick swap for the right size.
Sara Kelly
So comfortable and fun to unpack. No cost is too high for a good nights sleep. Complete value for money.
Read more reviews